To Last Recode – Begins Edition στο Nintendo Switch
23/12/2021
Με τα διαδοχικά τιτιβίσματα απο την Bandai Namco US, σας μεταφέρουμε την πρόσφατη ανακοίνωση για το .hack//G.U. Last Recode Begins Edition Bundle. Ο τίτλος θα είναι διαθέσιμος στο eShop για preorder (μέχρι 2 τεμχ.) και περιλαμβάνει το cartridge σε μια συλλογή, με τα games : Rebirth, Reminisce, Redemption, Reconnection, το Οfficial Soundtrack και Manga + Art Concept.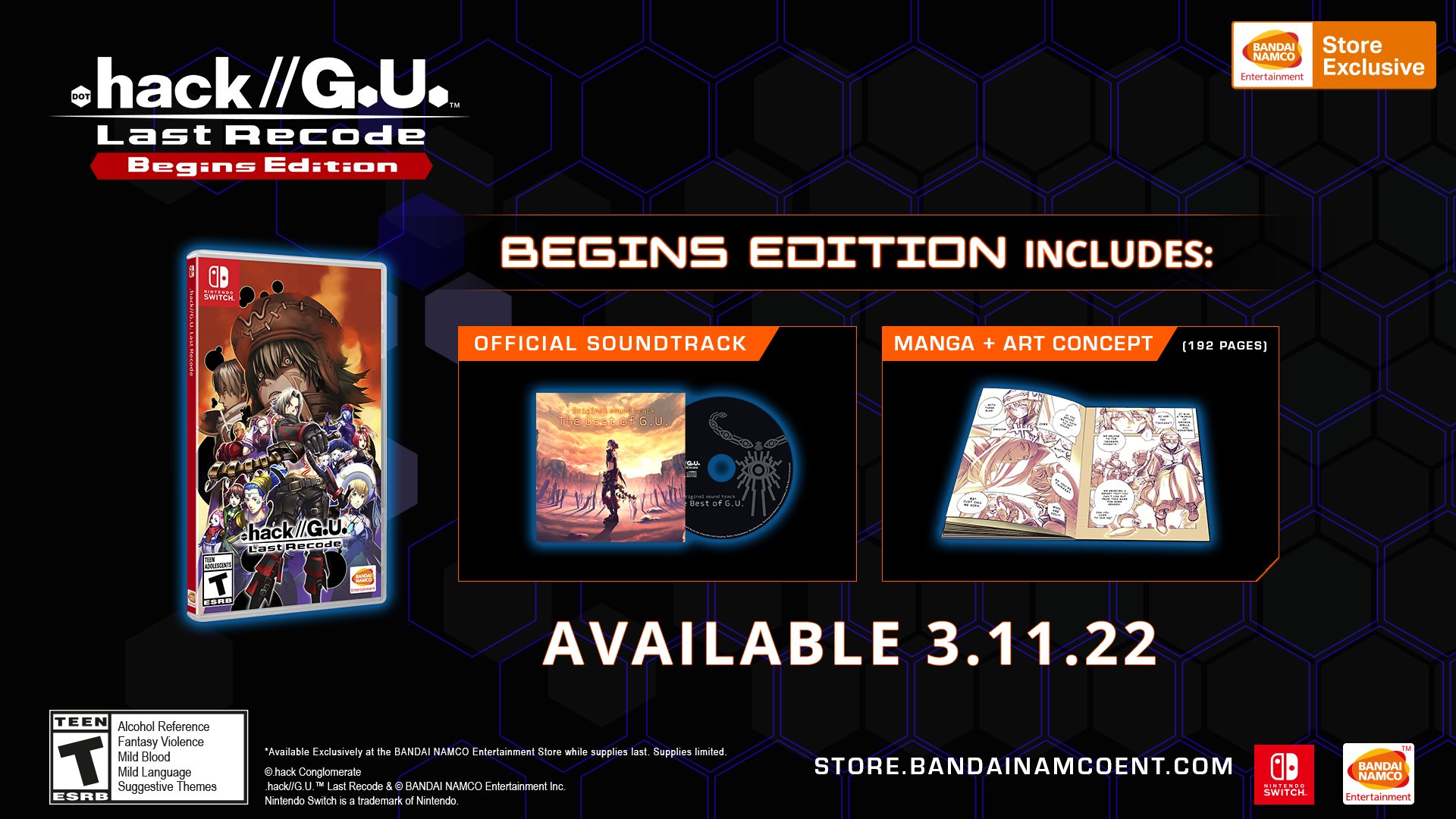 RETURN TO THE WORLD
Log back into the .hack//G.U. saga, an exciting action RPG that is now on the Nintendo Switch™! This collection includes all 4 .hack//G.U. titles (Rebirth, Reminisce, Redemption, and Reconnection) in one single integrated experience.
Immerse yourself in "The World," a VRMMORPG fi lled with monsters, magic, and chaos. Follow Haseo as he hunts down a legendary Player Killer (PK) named "Tri-Edge" who PKed his friend Shino and sent her into a coma in real life.
Journey to the mysterious online world of .hack and experience an RPG like never before!

20TH ANNIVERSARY OF .HACK
Celebrate the 20th anniversary of a beloved global cross-media franchise with the first .hack game on the Nintendo Switch™!
Publisher: BANDAI NAMCO Entertainment Inc.
Release date is 3/11/2022
Μείνετε συντονισμένοι στους Nintenders για περισσότερα νέα γύρω από την αγαπημένη μας πλατφόρμα και τα παιχνίδια της!
Επισκεφτείτε την ομάδα μας στο Facebook "Nintendo Switch GR". Ελάτε να συζητήσετε τα πάντα μαζί με ακόμη 5300 Έλληνες για την αγαπημένη μας κονσόλα.